The stainless steel pool and jacuzzi outdoors offer a view of the Mont Blanc while enjoying with the relaxing virtues of water.
The sauna and steam room will be welcome you for a moment of well-being.

Ecology has been taken into account to heat water, thanks to a wood boiler using wood of the valley.
Swimming Pool
3D Virtual Tour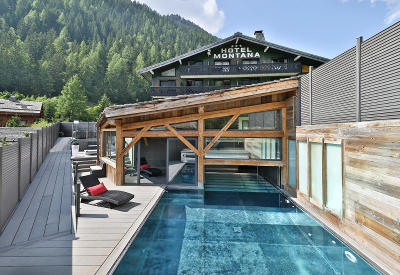 Swiming pool entirely in stainless steel with an incomparable design.
The water is heated all year to 33C °.
Jacuzzi
The jacuzzi 7 outdoor spaces will welcome you for an intense moment of relaxation thanks to the relaxing virtues of warm water and massages.
Steam / Sauna
The hammam was previously used to purify the body and mind.
Today the hammam is lifestyle source of balance and well-being Relaxation, warm vapor clouds cleanse the skin thoroughly. Lying or sitting, let you wrap by fragrant vapors. Regularly go out to cool off in the shower.
Reservations required near the reception availability.
Paid session ½ hour private use.
Sauna is primarily a moment of relaxation and conviviality in compliance with a guaranteed hygiene by private use only for the comfort of each user.
A sense of well being, lightness and cleanliness at the output of a sauna is very special.
After a half hour session your muscles are relaxed and tension are eliminated.
Reservations are required at the reception for the availability .
Paid session ½ hour private use.